You should do everything you can beforehand to ensure the boiler and heating system work optimally throughout the coldest months.
Boiler check up before winter
Get your boiler ready for winter by testing it before mid October or when the temperature outside starts to fall below 15 degrees. Check your boiler pressure and turn the heating on for a few hours one day. You should also get your boiler serviced before the winter and check your radiators for cold spots and bleed them if necessary.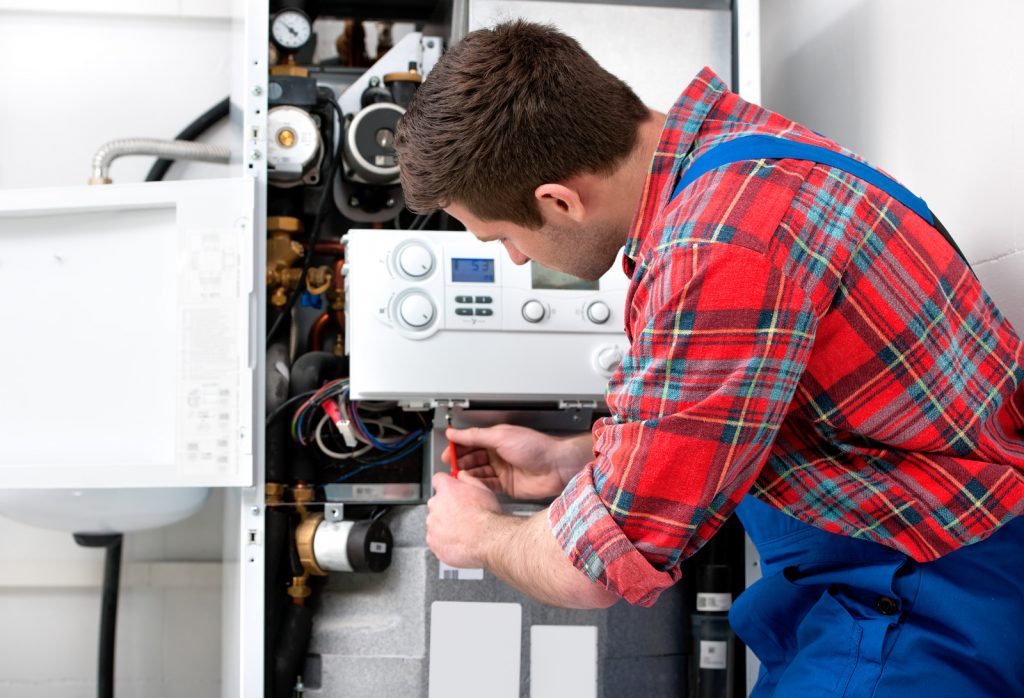 Here, we look at easy ways to get your heating system ready for winter.
Tips to get your boiler and heating system ready for winter
The main ways to get your boiler and heating system ready for winter are to get your boiler serviced before winter arrives, bleed radiators, and insulate both the condensate pipe and any exposed pipes.  Also check the boiler pressure is correct and the thermostats are set to the correct temperature.
1.  Bleed radiators
Trapped air is the main cause of radiators not heating properly as it stops the hot water circulating in the radiators.  So you need to bleed the air bubbles out of the radiator if you find it's cold at the top and hot at the bottom, or is making a noise.  
It's best to bleed the radiator about twice a year or after you have repressurised the central heating system.  Get this done before winter starts so your system is fully working.
2.  Insulate the condensate pipe
A frozen condensate pipe in the winter can cause havoc with your boiler and cause it to break down at the worst possible time.  It is best to prevent the condensate pipe from freezing in the first place.  
You can buy pipe insulation that is waterproof and UV resistant to wrap around the exposed pipe. 
If you cannot access the pipe easily or you want to change the angle or location of it, you can call an engineer to see what can be done.
3.  Check boiler pressure
The pressure gauge on or near the boiler needs to show the right level, check with your manufacturer's user manual but is usually between 1 bar and 1.5 bar.  
If it's showing less than this, you will need to refill the system with water via the filling loop and the boiler manual will show you how to do this.  
Not enough water pressure means there could be a leak somewhere in the system or the expansion vessel within the boiler may need to be checked.  The boiler needs to work harder in this case putting a strain on it. 
4.  Check thermostats
You should make sure not only that they are working properly but also they are located in the correct part of the house.  
If your thermostat is in a sunny room that cools slowly, there will be a delay before the heat kicks in. If the room warms quickly, it shuts off the boiler too early. 
Or it might be placed near a heat source which makes it turn off before the house has warmed up.  Move the thermostat closer to the colder room or invest in the Nest or Hive smart wireless thermostats which also give you more control.
To check the temperature sensor is working correctly on the thermostat, tape a thermometer next to it on the wall and check the temperature at the start and end of a 15 minute period.  If they both don't match, the thermostat sensor may be faulty and need replacing.
5.  Insulate exposed pipes
Pipes running through voids and other unheated spaces are prone to freezing during cold spells and can stop your boiler working.  
Even if there isn't a risk of freezing, uninsulated pipes have a heat loss which can add to your energy bill. If you have easy access, it's best to insulate the pipes as much as you can using either foam pipe or fibreglass pipe insulation.
6.  Install or test a carbon monoxide alarm
You will be using the boiler and any other gas appliance much more in winter so ensure you have a correctly installed and tested a carbon monoxide (CO) alarm.  
They can detect CO whereas you can't and they can detect it quickly to help prevent CO poisoning.
7.  Service your boiler
A boiler system filter, also known as a magnetic filter, is fitted to a section of the pipework going to the boiler to catch debris and magnetite from the water.  
It is needed if you want to keep your boiler system water clean.  They can increase the lifespan of the boiler and help lower energy bills.  Contact a gas engineer to have it installed.
9.  Get a power flush done on your central heating system
A power flush helps make your central heating system more efficient and there are obvious cost savings in this.  
Other benefits include the radiators warm up much quicker to heat your house in less time and also potentially lower energy bills as the boiler requires less fuel to heat the system.
10.  Find a better energy deal and switch supplier
The gas and electricity market is very competitive and that is a good thing for customers.  
Research from Ofgem and other big names in the industry says you will likely make the biggest savings by switching supplier.  
This is all part of getting your heating system ready as the highest usage will be in winter.
Summary
Make sure you carry out the following tasks so your boiler and heating are reading for winter:
Bleed radiators.
Insulate the condensate pipe.
check boiler pressure.
Check thermostats.
Insulate exposed pipes.
Service your boiler
Get a powerflush done on your central heating system.
Install and test a carbon monoxide alarm.
Find a better energy deal and switch supplier.
If you need help paying for insulation measures, there are grants available to many customers. Visit Simple Energy Advice's website to see who qualifies.