Probably the most essential piece of kit for a gas engineer (apart from a screwdriver and pencil) is the flue gas analyser and without it you can't do any boiler commissioning or servicing.  Testo is a well known brand in this industry because they offer simple and reliable analysers with accessories that will meet the engineer's needs in domestic applications.

What is a flue gas analyser?
A flue gas analyser is an electronic portable device used by gas and heating engineers to monitor emissions during the combustion process. The analyser measures gas and oil boilers as well as other gas appliances checking if they are safe to use, particularly sampling for carbon monoxide and excess carbon dioxide levels.
Here, we look at what Testo offers for the price of its analysers.
The one for new gas engineers:  Testo 310
New engineers into the industry need something straightforward and easy to use to get the job done and the Testo 310 is the perfect answer. Put simply, it has everything you need to work on boilers for a great value price because we know you've got other tools to buy as well.
It measures: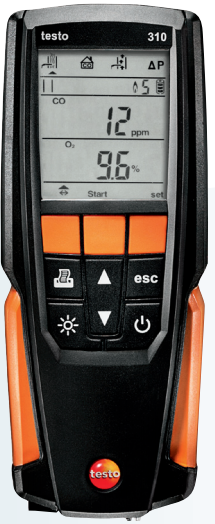 O2, CO (with built-in NOx filter), CO2
Combustion/flue gas efficiency & excess air
Undiluted CO (CO air free) and ambient CO
Draft & Pressure
Temperature (flue & ambient – measuring range is -20 to 100⁰C
The 310 has simple functions with a high level of accuracy, and is perfect for all basic measurements on heating systems. The battery can last up to 10 hours. It's compact design makes 310 a robust tool for work.  You'll also be able to do tightness tests with it and has an integrated condensate trap.
You can get straight to testing within 30 seconds with its quick zero sensor and comes with a stainless steel probe and cone-stop. It is able to test five different fuels – Natural Gas, Propane, Fuel Oil 2, Biomass 5%, Wood 20% to cover what you work with.
All this for under £400.  Check latest price on Amazon
The one for more experienced engineers:  Testo 327
When you've been in the industry for some time and have accumulated lots of various tools, you want a gas analyser to be lightweight and sturdy and the Testo 327 does not disappoint.  The 327 is lighter than the 310 and also features a 4 line LED display unlike the 310 which has an LCD display.

Good for someone with lots of tools, the 327 has an IP40 rating, which means its protected from tools and small wires greater than 1mm to help prevent damage, making this a more robust analyser than the 310.
It measures the flue draught, pressure, and differential temperatures and is easy to use with its graphic display and menu guidance.
It does everything the Testo 310 can do but has more user selectable fuels (10).  Its battery life is also longer and the measuring range is great – upto 600⁰C. 
At under £500, it has everything you need to stay on top of the game.
Check the latest price on Amazon
The user-friendly testo 330 has been developed with smart-touch operation, robust construction and the ability to email reports, making the testo 330 an indispensable companion for all measuring tasks involving heating systems. Includes all the necessary gas probes for an engineer's requirements.
Best features of the Testo 330
Ready to use straight away – In standby mode, it is ready to measure with one button click so there's is no waiting time.
Graphic Resolution display –   Allows it to be used just like a smartphone. You can get the customers electronic signature and also store their details in its memory.
Large 240 x 320 pixels display – You can see all system parameters in one go.
Email reports – The testo 330 creates documents directly on site that you can send to the customer or your office straight away via WLAN
The gas engineer's working day means the analyser has to be robust in a tough working environment; The 330 has a protected display which is scratch resistant and recessed.  It has four strong magnets coated with rubber so you can mount it on fragile surfaces too.
With this kit, you will be equipped for the main measurements involving heating systems: It is supplied with O2 and 4,000ppm CO sensor, basic flue gas probe, soft-case style instrument bag with carrying handle. It enables easy measurement of flue gas, draught, pressure, ambient CO and differential temperature.
At just over a grand, it is the latest model Testo has to offer for those engineers who want the latest tech.
Summary
Testo is a great brand with good quality products that are always easy to use and set up so whichever one you buy will provide great service.  The three models above have been listed to suit your budget and experience but you can work with any for your day to day use.
*The information in this article should be used for general guidance only and not as financial or health advice.  Full details are on the link in the footer to our disclaimer page.  Always discuss your requirements with a competent and suitably qualified professional before undertaking any work.