What is a thermal imaging camera?
A thermal imaging camera is a non contact device used as a leak detection tool. It creates an image using infrared radiation and enables heating engineers and plumbers quickly find leaks, insulation problems and heat loss in your home's central heating system. It does this by detecting the surface temperature being emitted. The image can then be saved and shared.
Disclosure: Some of the links below are Amazon affiliate links. This means that, at no cost to you, we may earn an affiliate commission if you click through the link and complete a purchase.
These are some of the best rated thermal imaging cameras for home inspections:
FLIR TG267
Bosch Professional GTC 400 C
Testo 868
FLIR E5 Compact
Hi-Xintai HTI 19
PerfectPrime IR0018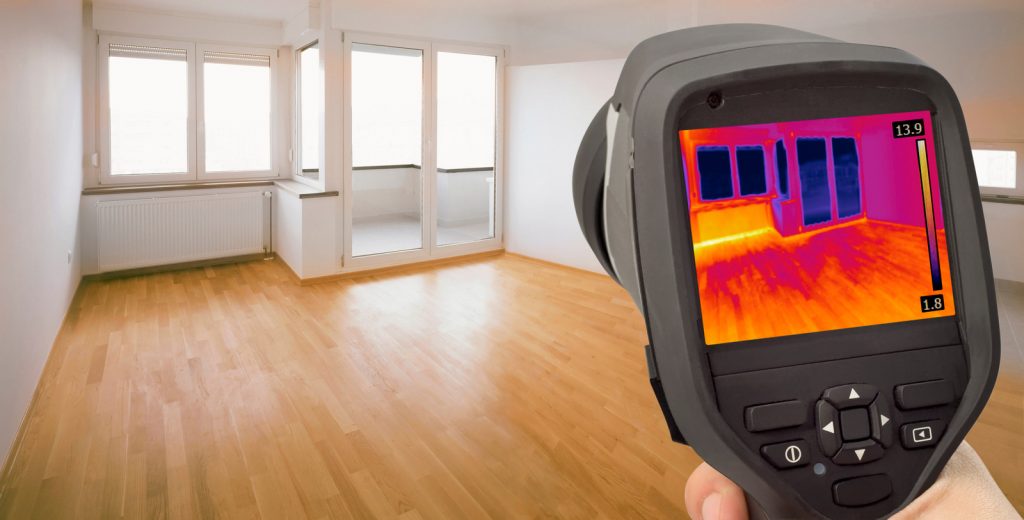 Benefits of Thermal Imaging Cameras for Home Inspections
Locates heating pipes in floors and walls.
Checks heat distribution within a radiator.
Checks if heating pipes are correctly labelled.
Finds leaks before they need major repairs.
Checks the routing of heating cables.
Avoids errors when drilling into floors and walls so you don't damage pipes.
Detects damp patches in rooms and ceilings.
Checks the condition of insulations in the property..
Shows customers your findings to prove where work is needed
Finds source of draughts.
The heat sensor on the camera allows heating engineers to see areas where the pipes are running in a heating system, where heat is being lost, is the underfloor heating working properly, which component or equipment is overheating, are if there any leaks or cold spots in pipes under floors or even if there is sludge in the radiators etc
Warm or hot areas show up on the display as yellow, orange or red on a thermal imaging camera and cooler regions are usually blue or purple.  Green colours indicate normal room temperature.  Many cameras will also be able to take a normal image from visible light to help identify where the thermal image was taken at.
Thermal imaging cameras for plumbing and heating engineers
Heating engineers need a camera with a wide temperature range: anywhere between -40⁰C to 1000⁰C, and need it to be of high accuracy such as ±2⁰C.  Because it can be used to check radiators and underfloor heating, to see clearly it also needs to have a fairly wide angle visual display around 3.2″ as a minimum. 
Although the Infrared sensor resolution doesn't need to be very high, it will still require something like 160×120 to give detailed thermal images.  Data transfer capability is also a requirement for the heating engineer to be able to show the customer your findings which show transparency and gain their confidence. This can be shared via Bluetooth, WhatsApp or email.
How far can thermal cameras see?
This depends on the image resolution of the camera, the number of pixels and the focal lens on the camera – its length and field of view.  For domestic heating engineers, the objects being measured are likely to be within 10 metres distance and most thermal imaging cameras on the market will work, having differences only in level of detail.
Best thermal imaging cameras for home inspections 2023
The following thermal cameras have been chosen because they suit a home inspection needs very well in terms of temperature range, battery life, resolution, field of view and focus. They include both low price for occasional use to high end models for regular and professional use.
Bosch Professional 12V System Thermal Camera GTC 400 C
Testo 868 – Thermal Imaging Camera (w/o BT) (with Wi-Fi connection)
FLIR Systems E5 Compact Thermal Imaging Camera
" rel="noreferrer noopener nofollow sponsored">HTI-Xintai HTI 19 320 x 240 IR Infrared Thermal Imaging Camera
A Comparison of FLIR TG267 and Bosch Professional GTC 400 C
| Feature | FLIR TG267 | Bosch Professional GTC 400 C |
| --- | --- | --- |
| Thermal Imaging Resolution | 160 x 120 pixels | 160 x 120 pixels |
| Temperature Measurement Range | -25°C to 380°C (-13°F to 716°F) | -30°C to 400°C (-22°F to 752°F) |
| Thermal Sensitivity | < 70mK | < 120mK |
| Laser Targeting | Yes | Yes |
| Visual Camera Resolution | 2 MP | 5 MP |
| Display Size and Type | 2.4″ TFT LCD | 3.5″ IPS LCD |
| Wireless Connectivity | No | Yes (Bluetooth and Wi-Fi) |
| Image Capture | Yes | Yes |
| Video Recording | Yes | Yes |
| Battery Life | Up to 8 hours | Up to 6 hours |
| Memory Storage | MicroSD card | Internal memory and MicroSD card |
| Measurement Modes | Spot, Area Box, Isotherm, Delta-T | Spot, Area Min/Max, Isotherm, Delta-T, Multimeter |
| Mobile App Integration | No | Yes |
| PC Software Compatibility | FLIR Tools | Bosch Measuring Master app |
| Ruggedness and Durability | IP54 rating (dust and splash resistance) | IP54 rating (dust and splash resistance) |
| Weight | 0.57 kg (1.26 lbs) | 0.7 kg (1.54 lbs) |
Our Top Pick Thermal Imaging Camera
For New Engineers
Based on the provided features, the FLIR TG267 is our choice for new engineers. It offers a user-friendly interface with a clear display, simple measurement modes (such as spot, area box, isotherm, and delta-T), and a compact design.
The FLIR Tools PC software can also assist new engineers in analysing and documenting thermal images effectively. It is also a more cost effective product when new engineers are spending to building up the tool kit.
For Experienced Engineers
The Bosch Professional GTC 400 C would be an ideal choice for experienced engineers who will use the product regularly. It offers advanced features such as a higher thermal sensitivity, a larger visual camera resolution, and more measurement modes (including spot, area min/max, isotherm, delta-T, and even a multimeter function).
The wireless connectivity options (Bluetooth and Wi-Fi) and integration with the Bosch Measuring Master app provide additional convenience for experienced engineers who require comprehensive data analysis and reporting capabilities.
Do thermal cameras need calibration?
Unlike a Flue Gas Analyser, thermal cameras don't need calibration from a regulations point of view and wouldn't really be necessary for gas and heating engineers generally. But manufacturers recommend it is calibrated annually to check the temperature sensors are in range and that firmware is up to date. 
Why is thermal imaging of a house important?
Engineers can use thermal imaging cameras to analyse the amount of heat a building accumulates or loses. By using a thermal camera, you can determine which areas of a house require work to fix, or where it's necessary to stop heat being lost. 
This could be from windows where a central heating engineer can only direct the customer's attention towards.  For example, a customer might say a particular room is always cold. A thermal camera can confirm visually for them that a radiator is working correctly but heat is being lost through the window or gaps under the doors.
Are thermal cameras dangerous?
As thermal imaging cameras are non contact and passive measuring instruments that only measure heat being emitted, they are not dangerous even when aimed at living things.  However, they should not be used for taking a person's body temperature reading because they normally have a measurement accuracy of ±2⁰C which is not accurate enough
Can some metals block thermal cameras?
Thermal cameras don't see through metals but pick up heat differentials on the meter surface and provide a visual image of the heat radiated through the pipes.  Most cameras are sensitive to ±3⁰C so it can easily pick up temperature differences between flow and return pipes on a central heating system for example
Can you see through walls with a thermal camera?
No, thermal cameras cannot see through external walls because of their thickness and insulation material within them that aim to prevent the heat escaping. Thermal cameras detect heat to produce images and this can't be done through thick walls.  But if the wall is thin, such as plasterboard and doesn't have insulation, the heat signatures can be detected
Summary
A thermal camera has many applications for heating engineers including for air conditioning, electricity, energy auditing, window installations, drywalling.  You can save time and stress by using it to check for any leaking fittings or floor heating pipes, where do the heating pipes run in the wall or floor, the condition of insulation or where the draft is coming from.
*The information in this article should be used for general guidance only and not as financial advice.  Full details are on the link in the footer to our disclaimer page.  Always discuss your requirements with a competent and suitably qualified professional before undertaking any work.