You may be wondering if it's time you got your home ready for the winter season. It can be hard to make the leap with so many summer months still ahead until winter. However, a cozy home that's ready for winter is always worth the wait. With a little preparation and patience, you can have your home ready for the colder season in no time with a heat pump installation.
With a heat pump system, your home will remain comfortable at all times of the year. There are, however, certain things you need to know before installing one in your home. Keep reading to learn everything you ever wanted to know about installing a heat pump system!
Installing a heat pump system
If you're thinking about installing a heat pump in your property, you'll first want to choose the right system for your home. There are many different types of heat pump systems and the system you choose will depend on your home's layout, your heating requirements and your budget.
One of the first things you'll want to do is assess your home's existing heating system. Check the sizes of existing pipes or ducts, how they're connected to your boiler and radiators, and how much pipework or ductwork needs to be upgraded or replaced. You'll also want to make sure that your home is relatively free of moisture issues that could impact the performance of your new system.
Understand the Benefits of Installing a Heat Pump System
Cooler indoor temperatures
Heat pumps run at lower temperatures and allow you to set your thermostat lower, which can not only keep your home warm during the cooler months but also save money as a result.
Heat pumps give better energy efficiency
Heat pumps are much more energy-efficient than traditional heating systems – upto 4 times. That means less electricity is used to keep your home warm and more money in your pocket.
Lower Total Cost of Ownership for heat pumps
The long-term savings you reap from a heat pump can outweigh the short-term expense of installing one. TCO is the overall cost of owning a certain type of system, such as a heat pump.
Lower monthly bills
You won't have to pay high monthly heating bills or gas bills. Although your electric bills will increase, the high efficiency of heat pumps mean you get a much better return for the money you put in. You won't have to maintain the heating system often, unlike a gas boiler which requires annual maintenance for safety.
Heat Pumps require little maintenance
Maintenance for heat pumps is more to do with performance rather than for safety as with gas heating systems. You won't have to service a heat pump every year like you would a gas boiler.
Know the Requirements for Installing a Heat Pump System
External Parts – The Collectors
Outdoor fan unit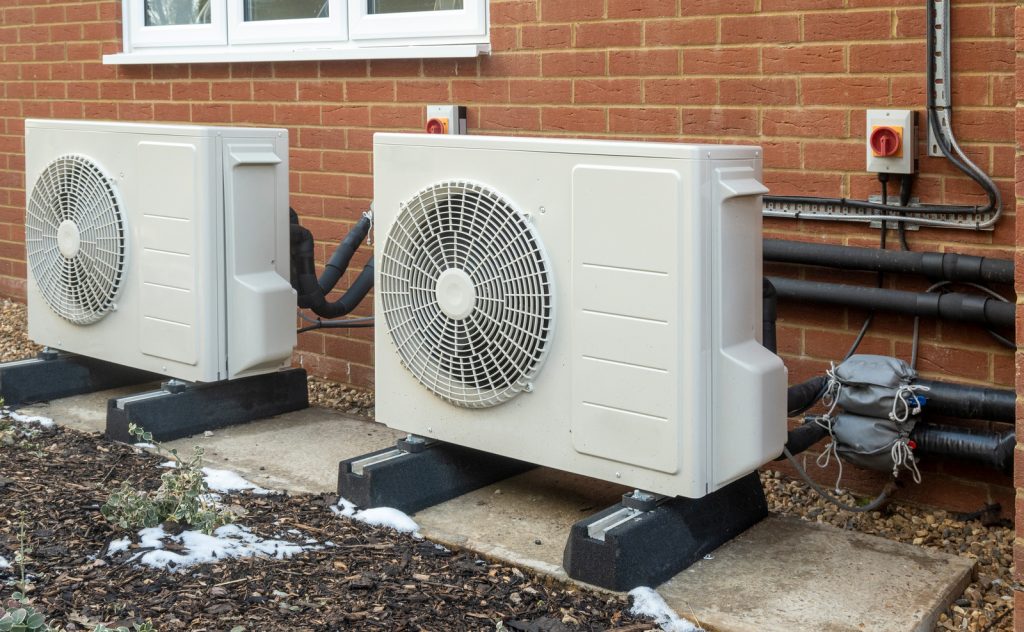 This consists of the fan unit which collects the heat from the ambient air in the atmosphere. It needs to be a fairly large sized unit and also free from obstructions that restrict air flow. It is usually on or near the front or back wall of the house.
Outdoor coils
A series of coils inside the heat pump have refrigerant flowing through them which allow heat to be extracted more efficiently. They are usually at the back of the outside unit but will need space.
Pipe connections and power cable
Inlet and outlet pipes are connected to the outdoor unit to enable the flow of the liquid. They lead to the heating components inside the building.
The power cable is needed because the heat pump runs entirely on electricity. If on occasions, the unit is not able to deliver the desired heat, electricity will be needed to run the heating coils as a backup to raise the temperature.
Evaporator/Compressor/Condenser
These three, along with an expansion valve form the main component of the heat pump system. Depending on whether you want to cool or heat the home, the various components will work to refrigerate or compress the liquid, working under pressure.
This is usually installed indoors away from the elements but still close to the outdoor fan unit.
Internal Parts – The Emitters
Air to air heat pumps
These deliver heat in the form of space heating. Ducts can be used to move the heated air around the home. The parts in this system include expansion vessel, pipework or ductwork, thermostats and an air handler. Heated air is emitted through the indoor unit in the preferred room.
Air to water system
Here, the pump is used to heat water that is sent to radiators or underfloor heating. Apart from this, they can heat water to be stored in tanks so they are used for domestic hot water outlets. In this case, the parts could include a buffer tank, expansion vessel, hot water tank, radiators, underfloor heating pipes.
Should You Install a central or portable heat pump?
A central heating system is ideal for homes that are large and have large amounts of windows. It works by circulating hot water through the home's plumbing, so it's always warm and ready for use. While central heating systems are efficient, they can be expensive to install and maintain. They usually require a professional tradesman to install quickly and correctly.
To get the list of approved installers, visit the Microgeneration Certification Scheme here.
A portable heat pump is ideal for homes with smaller spaces and less sunlight. It works by transferring heat from the air outside your home to the air inside your home. The heat pump then transfers heat from the inside air to the outdoor air, and vice versa.
These systems are more affordable, easier to install, and less maintenance than central heating systems. in many cases, you won't need to hire a professional to set them up.
Wrapping up: Is it time to install a heat pump?
Whether you're ready to start planning for the winter or just looking for some extra help keeping warm this season, installing a heat pump can help you save money and stay warm comfortably during the colder months.
Heat pumps, although initially expensive to install are an affordable long term option for home heating and cooling. They're also quiet, so you won't hear them running in your home.
The benefits of a heat pump system are numerous, and the system is going to help you save money in the long run by being more energy efficient. If you're ready to get your home ready for the colder season, install a heat pump.
Read related Articles:
*The information in this article should be used for general guidance only and not as financial or health advice.  Full details are on the link in the footer to our disclaimer page.  Always discuss your requirements with a competent and suitably qualified professional before undertaking any work.